Annual Festivals & Events
Every 2nd Saturday of the month, get your card at participating shops at 3pm. Get a stamp at each shop for the chance to win an additional $500 shopping spree in July and December.  Earn a ticket when you shop and spend $10. Spend more than $10 and earn MORE tickets to increase your chances… PLUS get the perfect gifts for everyone on your list.  The drawing will take place at 6pm at D'vine Winery on the Historic Square, and stay awhile for the AFTER Party!!!!!
Each participating location will have balloons outside of the store, so you'll know where to shop!

The Historic Granbury Square is the place to be on Friday and Saturday nights.  Most eateries and drinkeries offer live music into the later hours.

Hosted by  Historic Granbury Merchants Association 
On Monday, Memorial Day, we remember those who have given the ultimate sacrifice. We feature Patriotic live music all day, reading of the Flanders Field Poem, the introduction of Gold Star Families, a bagpiper, 'Taps Across America' and much, much more.
To kick off the summer season we have planned a fun-filled weekend for families young. We will host street vendors and food trucks, hot dog & pie eating contests, a balloon clown, a patriotic pooch pageant, and a Kid Zone for yard games at Langdon Center featuring a spider bungee trampoline jump for kids of all ages. Friday Night will feature Karaoke on the Bridge Street Stage, then Saturday Night our crowd-favorite Street Dance returns to the Bridge Street Stage. On Sunday, one of the most fun and a pet owners' Favorite is the Patriotic Pooch Parade!
____________________
Thank You To Our Sponsors!
D'Vine Wine, Granbury Square Plaza, North Texas Chevy Dealers, Ketzlers, Pug on a Pontoon, Southern Star Market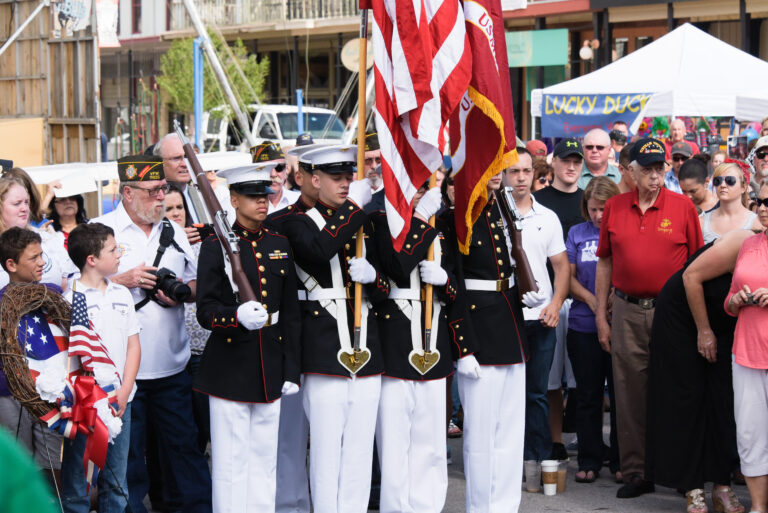 To end the Summer, the Historic Granbury Merchants Association is sponsoring another FUN Family Festival – The Labor Day Weekend Festival and Sidewalk Sale. The Festival will run Friday through Monday, September 1st-4th, and is going to be great fun for both visitors and locals alike. This Festival promises to be a great way to celebrate the end of summer and to Kick-off Fall!
Vendors will be selling items around the Square and of course, all of the shops around the square are bristling with signs about great Labor Day SALES! The shops will all be running extended hours Friday thru Monday, and the Vendors will be open Friday 4:00 – 8:00 PM, Saturday from 10 to 8, and Sunday from 10 to 6. Monday 10 to 4. There will be Kid's activities at the Plaza under the Pavillion Vendors around the Plaza, on Bridge Street and Crockett Street, AND Karaoke on the main stage on Bridge Street.7-10 PM…and a great Street Dance on Saturday, 7-10 PM. Our plan is to do the Lighted Boat Parade Sunday and on Monday, Labor Day there will be Beach Bobber Drops for the kids at 10 AM, 2:00, and 4:00 PM. We will have local musicians throughout the festival at the Pavillion Stage and Main Stage.
Also on the city beach will be all the usual water activities – kayaks and tubes, etc., rent a bicycle, stand-up waterboards, and more.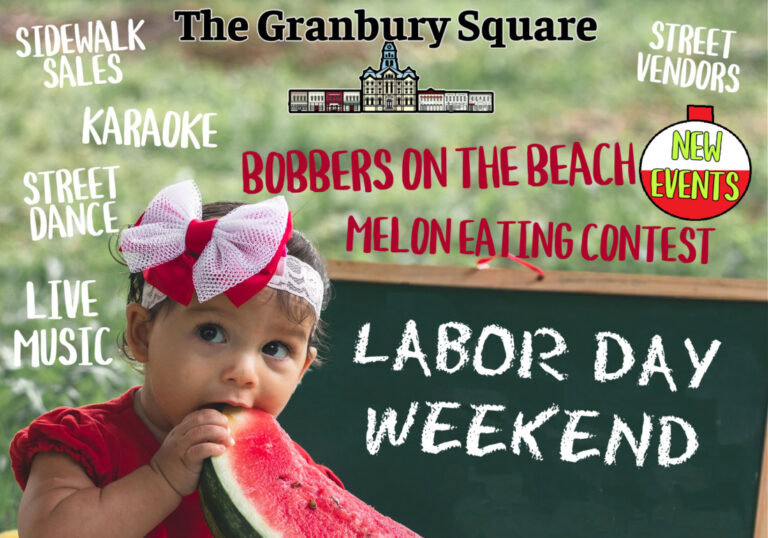 Grab your Lederhosen and Dirndls and celebrate in true German Tradition in the Granbury Square Plaza and Pavillion,  with vendors located on the Plaza, Bridge Street, and Crockett  There will be shopping with vendors, beer hoisting contests, Hammerschlagen, Jenga,  lumberjack contests, polka dancing and so much more!  This is a family fun event and includes a Kinderplatz to keep your children entertained!
We will have Polka Music on Friday night, Saturday night, and Sunday afternoon for you to show off your polka skills!
Friday 10/6 the Vendors will open at 4:00 PM until 8:00 PM, Saturday, 10/7 Vendors will open at 10:00 AM until 8:00 PM, Sunday 10/8 Vendors will open at 10:00 AM until 4:00 PM, with the close of the Festival!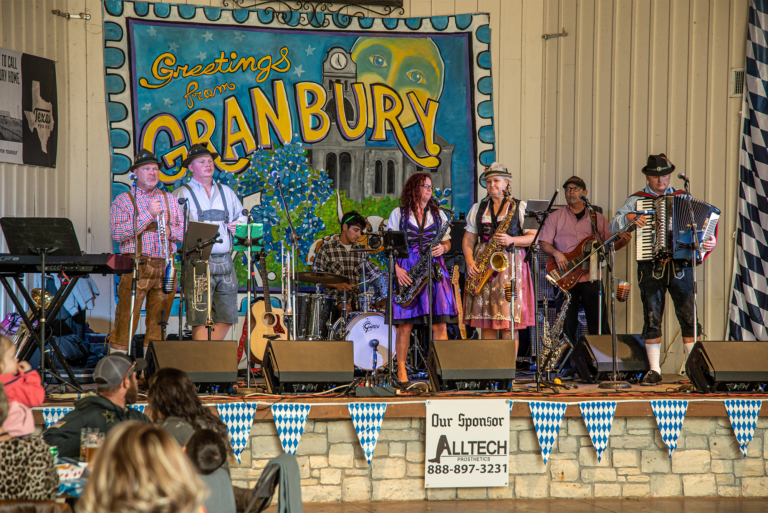 Harvest Moon Festival of the Arts
Historic Granbury is an easy drive from the Dallas/Fort Worth Metroplex and is a popular destination for day trips and weekend getaways.
Surrounding the beautiful and historic Granbury Downtown Square, the Harvest Moon Festival of the Arts celebrates the best of fine art and fine craft from artists all over the country.  Presented by the Historic Granbury Merchants Association, this long-running festival showcases artists, makers, and craftspeople. In addition to fabulous artist gallery booths, you'll find food, local entertainment, and seasonal activities all surrounded by the most vibrant downtown square in Texas with wineries, unique shops, boutiques, art galleries, live entertainment venues, and great restaurants.
Thank you to the generous sponsors who make this event happen.
The public can come to the Square and enjoy art for free. Yes, we want people to shop the more than 100 artists that bring their original work to sell at the Festival, but there is no admission fee and with musicians, street performers, hands-on activities, art demonstrations, and, it is in essence free public art. Do not miss the expanded Children Creations Area!
The artist application is available HERE!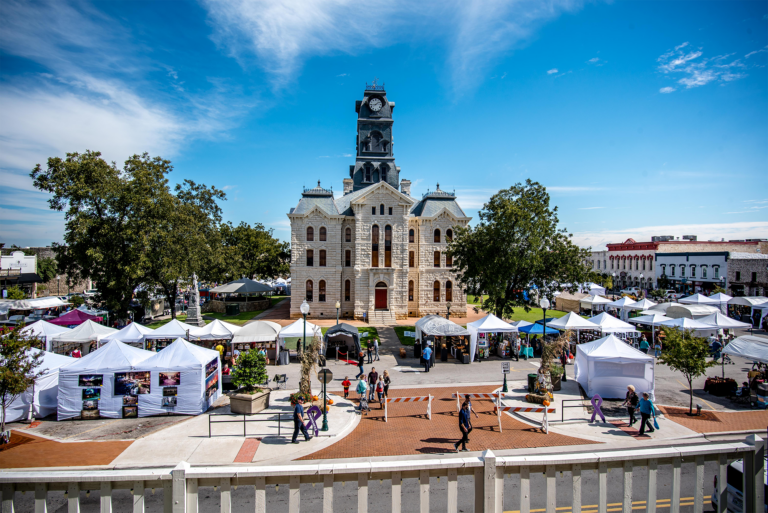 Night of Lights Christmas Parade
The Night of Lights Christmas Parade is a longtime holiday tradition in Granbury.  A colorful lineup of decorated entries – both lighted floats and walking groups decorated to celebrate the Birth of Christ – wind their way through Granbury's downtown Historic District.  Not only do spectators enjoy pre-parade music and entertainment, but Santa's arrival marks the beginning of the Christmas season and the city's Christmas lights are flipped on in nearby Shanley Park and the City Hall Building.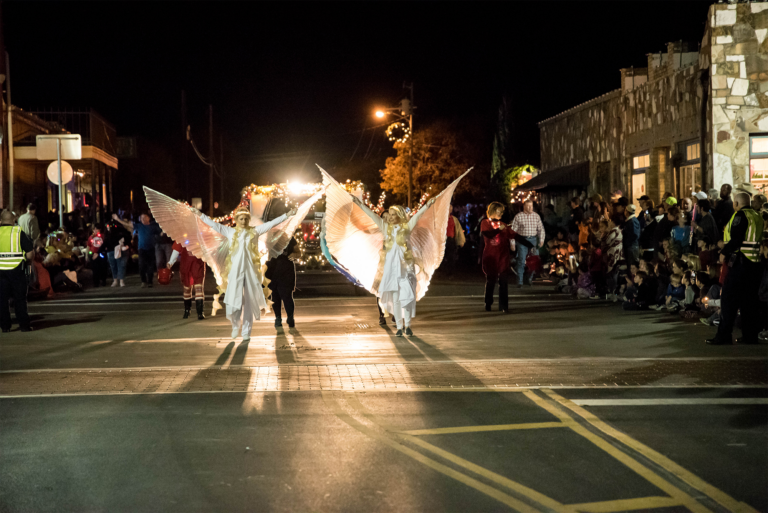 Granbury "A Candlelight Tour" of Homes
VIP Night – $65 Friday, December 1, 2023 | 6:30 pm – 9 pm Light hors d'oeuvres, beer, wine, & champagne at each house. Your ticket is good for the entire weekend of events. Pick up your wristband and book under the Plaza on Pearl Street (201 E. Pearl Street). Opens from 6 pm to 8 pm. General Admission Tickets for the tour on Saturday & Sunday 12/2-3 are $25 for early birds & after Nov 15th they will be $35. Ticket sales & pick up for online sales will be under the Plaza on Pearl Street (201 E. Pearl Street). You'll also receive your wristband and program.
Granbury, Texas delights in making a big fuss over her guests. And her holiday dress is stunning: a chill in the air; the centuries-old downtown square awash with lights; stylish shops, award-winning restaurants, and historic homes preened and decorated for the season.
This is a time when Texas hospitality is irrepressible and the gracious people of Granbury welcome visitors into their historic private residences for the Annual Granbury A Candlelight Holiday Tour of Homes.
Granbury, Texas, a place where Texas history lives every day, celebrates its culture once a year in a truly magical way. For the Granbury Candlelight Tour of Homes, the community bands together in an assemblage of lights, carols, Christmas treats, and carriage rides. Moreover, a selected group of citizens open their private, historic homes to the public. Between volunteer docents and the owners themselves, a story unfolds of each home's rich and unique story. Texas historical sites such as the Hood County Courthouse, the Granbury Opera House, and the Historic Train Depot will be included on the tour, as well as other Granbury museums and historic churches.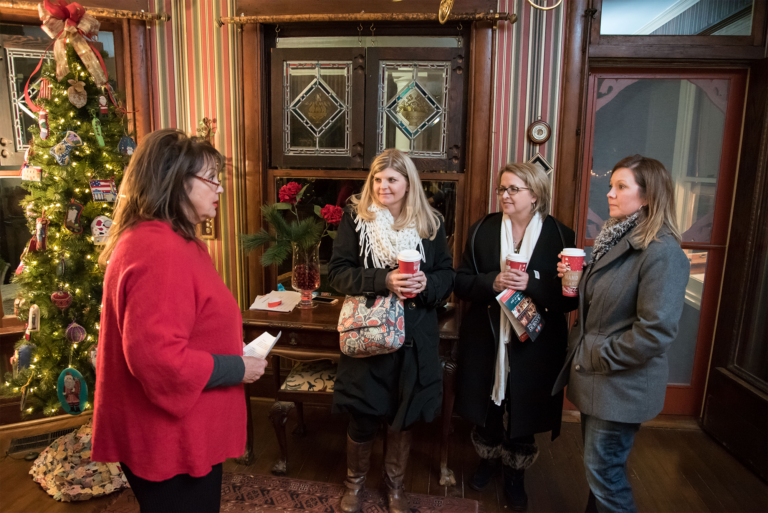 What is better than Chili on the Beach during Goosebump Jump?  Come join Visit Granbury and the Historic Granbury Merchants Association at the Hilton Garden Inn and the City Beach for a Chili Cookoff on Saturday, January 13th, 2024  during Goose Bump Jump!
Cookers will begin cooking their chili at 7:00 AM and tastings at 10:00 AM.  Tastings are $5.00 for a wristband and ticket to place your vote.  HGMA   will provide the cups for tastings.
If you are interested in being in the Chili Competition, please call the HGMA office at 682.936.4550 or email granburyhgma@gmail.com.  There will be prizes for the top three Chili Cook-off winners.of $250, $150, and $50 and a trophy for Peoples Choice.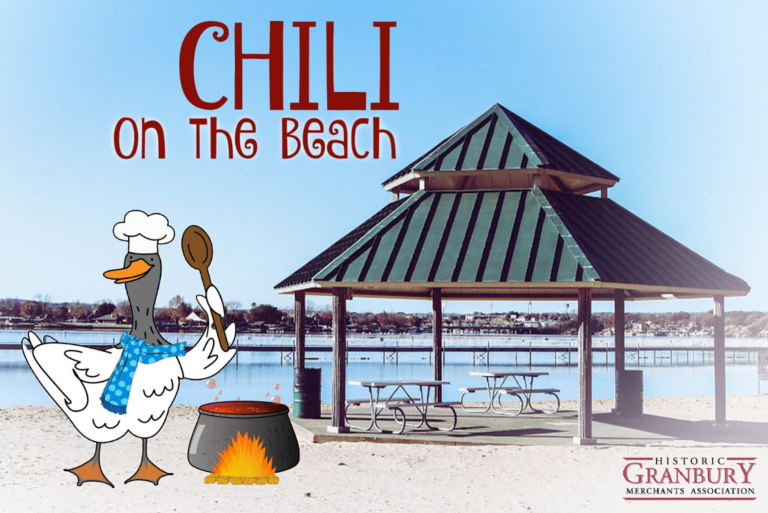 Granbury Founder's Day Jubilee and Cook-off
Head to Granbury's Founder's Day Celebration Weekend March 17-19, 2023, for a weekend of fun, shopping, and celebrations! Put your taste buds up to the challenge by tasting the beans and voting on the Peoples Choice for Best Beans!  You may also purchase Ribs and Brisket from some of the best Cookers in the area!  Think you've got what it takes to win? Share your own barbecue cookin' in the annual Bean & BBQ Cook-off!
With craft food and shopping vendors, fun activities, live music, and a Street Dance…it's a great event for the entire family. Don't miss some of the local artists hitting the stage on the Historic Granbury Square and be sure to come to the Street Dance Saturday night with B-Ray and the Humans. In addition, we will celebrate the birthday of General Granbury at the Gazebo on Saturday, March 18th.
This celebration is one-of-a-kind! To find out more information, contact the Historic Granbury Merchant Association.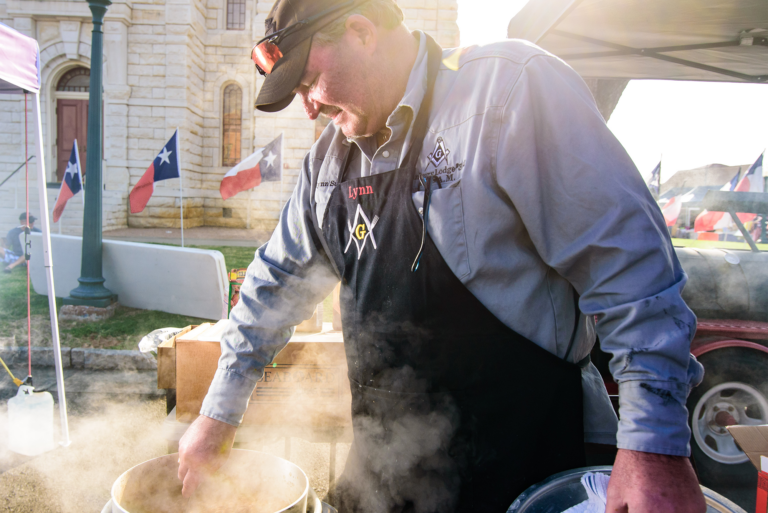 Come join us at The Granbury Square Plaza and Langdon Center for the 2nd Annual Oink, Oink Fest, A Traditional German Pig Roast!  This will be a celebration with great music, games, a Kinderplatz with activities for the children and a good variety of vendors to shop around the Plaza area. and Langdon Center where the Pig Roast will take place.    The Historic Granbury Merchants Association is partnering with Ketzlers, Schnitzelhaus, and Biergarten to create this Spring Festival.
Come grab a cold beer, a pork plate, or a child's plate, consisting of a pork sandwich, and enjoy the shopping, music, and FUN!